Always do your best – wonderful rewards will follow!
Solve problems positively. Ask yourself, "What good things this problem brings to me? Let me list of them all."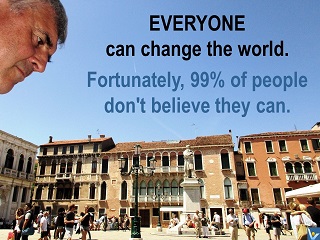 Your Life Symphony >> BE MAD ● Achieve Impossible ● Victor
Strategic Creativity ● Mindset ● Attitude ● Energy ● Focus ● Action
Kore 10 Tips for Thinking Differently

❶ Be willing to discard the "old" paradigms you are familiar and comfortable with... More
If you don't change the world, why do you exist at all?
Innoball ‒ exceed your initially desired results