Wisdom

Your wisdom = you / your ego
| | | |
| --- | --- | --- |
| | Every old and wise used to be young and stupid. The wisest ones managed to remain young. | |
If you want to see further and rightly, gain true insight, and get wiser, close your eyes, quiet your mind and open your heart. >>>

---

Day by day, your fate gives you nothing by opportunities to grow wiser, stronger and kinder. Realize this, and you will transform your life.
| | | |
| --- | --- | --- |
| | Fools talk mouth-to-mouth. Intelligent people talk mouth-to-ear. Wise people and lovers talk soul-to-soul. | |
Education brings knowledge.
Applying knowledge brings wisdom.
Silencing knowledge brings enlightenment.

---

A scholar builds his knowledge;
a sage makes his knowledge leaner. >>>
| | | |
| --- | --- | --- |
| | Evolution of a savior: First you embark on a world rescue mission. On the way, you become wiser and realize that it's not the World, it's yourself you should rescue. | |
In a stupid home, people buy new things more often than throw away old ones; in a wise home, vice versa.

---

The wiser I grow, the clearer I see the beauty around me, the more I value it, and the less I want to possess it.
Wisdom evolves from an idea along a virtuous spiral of experiments, learning from feedback, and making adjustments.

---

Optimism will drive you to your goal. Wisdom will help to forge the most effective path to it.

---

Before moving to the next curve of your virtuous life spiral, recharge your wisdom batteries.
Failure is an opportunity to grow wiser, get better prepared to win and make the next step towards success.

---

If clouds darkened the light path,
rise above the clouds.

Ask the Universe for guidance and take time to listen to the response. >>>
| | | |
| --- | --- | --- |
| | | |
| | | |
| Relax, set your mind free, meditate to unlock the power of the subconscious enlightenment, gain a flash of comprehension, and lure inspiration. | If you really want to understand something, free yourself from your ego and become the object you want to understand. | |
The greatest achievers are those who are old enough to be wise, and young enough to believe they can change the world. >>>

Give your subconscious mind "what" and "why",
and it will come back with "how" after a while, usually when you wake up from a sleep.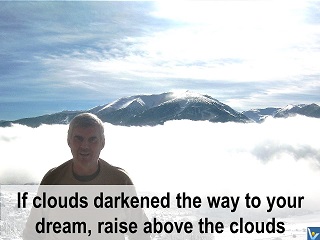 You move forward faster when you stop to think.

Learn from the Nature ‒ it's wiser than anybody else,

at least in my vicinity. >>>

Your life is a self-service shop with your life mission and true passion being your wise shopping advisers.

Fools talk mouth-to-mouth. Intelligent people talk mouth-to-ear. Wise people and lovers talk soul-to-soul.