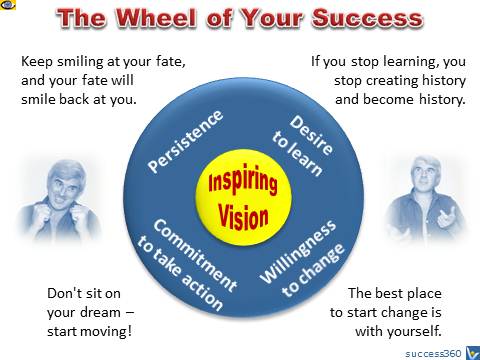 Take Action
→ COCA Principle of Achievement
Persistence
Wind is always fair even when it looks unfair. Fail small to succeed big on your way of making your dreams come true. See failure as temporary. Learn, refocus, restart. Keep smiling at your fate, and your fate will smile back at you.
Your Inspirational Vision

What is your purpose in life? Build inspirational details into your grand vision. Be realistic, explicit, and → creative. See yourself the way you want to be. What skills and special qualities do you possess that will help make you

→ successful? What qualities you most admire in other people? What are the qualities you would want most to create the perfect you? What can you do right now to act more like the person you wish to be?

Willingness To Change

The best place to start change is with yourself. Stretch yourself! Do something impossible to discover your inner power and spread your wings!

Continuous Learning

Life is about

→

continuous learning

, discovering new things, and growing. Successful people don't think they know everything. They are open to new ideas. They are always willing to find another way, find a better solution. That's why they're successful. Don't think you know everything and be open to learning and trying new things if you wish to achieve more, create new things, grow, be successful and live the life you want.