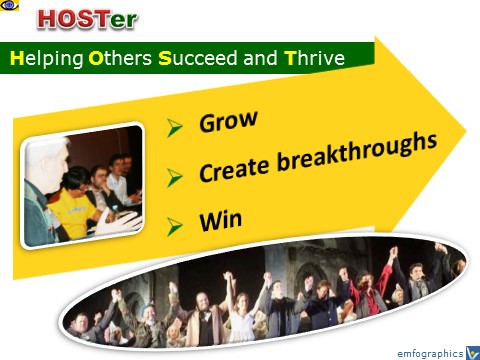 Business Applications
Empowering leadership is about helping employees grow and shine. >>>
→ Innovation

is about creating greater customer value.
To create customers, innovate proactively ‒imagine the best possible customer experience and strive to achieve it. >>>
Members of a passionate team care for the needs of their customers, show empathy, sincerely appreciate customers make them feel valued, and strive to help them succeed.
White marketing is not about selling a product, it is about helping customers succeed and thrive.
Growing Demand for HOSTers
In today's world – where ideas, → creativity, → innovation

and → entrepreneurship rule and so many people and companies are looking for new ways to get ahead and stand out – the need for smart advisors who help others succeed and thrive is unprecedented.
Be an Expert
Become an expert in your field. Exchange ideas with top professionals in your field regularly to keep current with the vast changes that are constantly taking place. Do your best to find out exactly what your prospect's problems are and develop creative breakthrough solutions for them.
Stretch Yourself and Others
Stretch your goals and your goals will stretch you. >>>
Help people set stretch goals and start moving towards them, and they will achieve more than they ever dreamed possible. You will all find lasting happiness if you turn this self-stretching practice into a habit. You will discover your unlimited capabilities that have long been waiting for opportunities to reveal themselves. You will be able to create your fate. >>>