Innovation is 1% of invention and 99% of entrepreneurial action.
Managers succeed by following the rules. Innovators succeed by breaking the rules.
In innovation, doing things right is often wrong.
In radical innovation, every step forward is a step into terra incognita where opportunities are guides and failures are teachers.
When you create radical innovations, entrepreneurial simulation games work far better than classic business planning, strategy formulation and project management methods.
Don't be a Chief Executive Officer, be a Chief Inspiration Officer!
→ 6+6 Engines of an Entrepreneur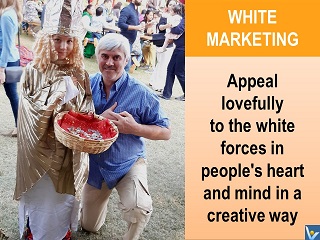 passionate about your work, everything around you becomes your inspiring coach.

Great business inspires employees by amazing → opportunities and customers by exciting products.

Great business is a daring vision of a → passionate and creative victor, not a blueprint by a consultant.

→ Surprise to win ‐ excite your employees, amaze your customers, shock your competitors!

Dreamers create best for fun, → problem solvers create best under the gun. → Market leaders create best for fun under the gun.

Love breeds Love. Love what you do and success will fall in love with you.

→

Love your customers and they will love you back. >>>

Development must be → balanced, like Yin and Yang: some people focus on creating breakthroughs (Yang), others ‒ on preserving established values (Yin) on the way.

Master of Business Administration? In today's rapidly changing economy administration would rather kill an → innovative company. To be successful you must be an → innovative, dynamic and flexible Master of Business Synergies!

Things get easier when you take a helicopter view ‒ you can see and be seen far better.

Customer Focus

Customer is not an object of marketing. Customer is the one who, if pleased, pays your salary, and, if excited, brings you joy and inspiration. >>>

Passion for customers is the first step – in the right direction! – in achieving your business goals.

Every company that wants to be successful must start with establishing the culture of → love for customers. The rest will follow.

If it creates value for customers it creates value for business, and vice versa.

To me, marketing is about appealing to the white forces in people's heart and mind in a creative way ‒ as soon as I can distinguish between white and dark fighters in my own heart and mind. Fortunately, they are easy to distinguish: the white fighters are those who are driven by unconditional love towards others.

Don't sell products, help your customers succeed and thrive.

If you sell something non-innovative, work hard to make prospective customers notice you in the crowd of other sellers. If you created radically new customer value, create also an emotional buzz marketing strategy to make people desire your product.

In today's overcomunicated World and overcrowded market, being just excellent is not enough. You must also be remarkable and rememberable. >>>