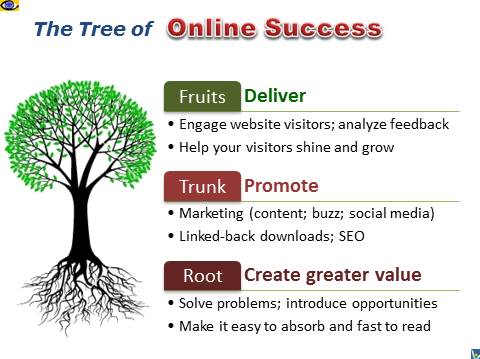 Content marketing is focused not on selling, but on communicating with customers and prospects, building trust and brand equity. The idea is to inspire business and loyalty from buyers by delivering consistent, ongoing valuable information.
Do search engine optimization (SEO). For each page, write a descriptive title using just 5 to 8 keywords.

Position your keywords in the first paragraph of your body text.

Include descriptive keywords in the title and the ALT attribute of image tags.

Submit your site to trade organization sites and specialized directories.

Offer content for others to use in their newsletters and sites. Ask them include a link to your website.

Become part of a social media community. >>>

Promote your site in online forums and discussion lists.

Develop a free service and/or offer free valuable downloads.
→ How To Create Attractive Headlines
Build a responsive opt-in email list and write high-converting emails with high open and click rates.