1. Find Lasting Inspiration
2. Unlock Your Creativity
3. Build Habits of a Great Achiever
4. Become a Creative Leader
Find Lasting Inspiration
Three Intertwined Pillars of Inspiration
3 Attitude Tips
3 Expertise Tips
3 Exploration Tips
3 Cross-pollination Tips
Dream Big Dreams
4 Powerful Attitudes
Be Different and Make a Difference!
Life-Business Synergy
Unlock Your Creativity
3 Pillars of Creativity
2 Creativity Catalysts
Challenge Assumptions and Status Quo
Lateral Thinking
Think Outside-the-Box
Ask Searching Questions
Discover and Build Synergies
Solve Problems Creatively
Turn Problems To Opportunities
Problem Solving: Tap Into Your Subconscious Mind
Make Creativity a Habit
Build Habits of a Great Achiever
8 Winning Habits of a Great Achiever
Yin and Yang of Achievement
Find Your True Passion
6 Steps To Developing a Grand Vision
Embrace an Achievement Attitude
Create Inevitable Success
Make Decisions Quickly
Create Greater Value for Others
The Wheel of Personal Success
Achievement-focused Self-Coaching
Be a Creative Leader
Leader 360
Create Change
How To Lead Creative People
Creative Leadership DOs and DON'Ts
Learning SWOT Questions
80 Smart & Fast Lessons
8
0 PowerPoint Slides +
8
0 half-page Executive Summaries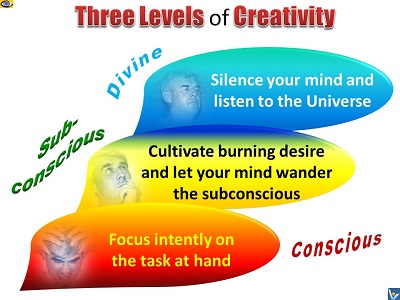 Your Conscious Creativity
Focus your thoughts on a matter. When you focus intently on the task at hand you get your conscious mind to take over. Switch between working with their conscious mind and subconscious mind to work with a full mind. Work on a problem intently then let it go free for a while before returning back again. Relax or go do something completely different to let your subconscious linger on the problem and do the job.
Your Subconscious Creativity
The real power of creativity lies in the subconscious. The subconscious is much more powerful than the conscious. The subconscious handles millions of things every minute. The conscious mind can only focus on few. Lots of your new great ideas are already lying inside of your subconscious. Your subconscious creativity comes out of all the things you are not aware of – feelings within you that naturally occur, things you have seen but have not noticed, and things that happened to you but you don't remember them. Let your subconscious take on more of the imaginative and creative side of the task and let your intuition select winning solutions. Cultivate burning desire, close your eyes, and let your mind wander the subconscious. Don't force yourself to come up with the decision in the moment. Take a break and go do something else so that your subconscious mind can work on it. It will assemble together the information it knows to develop the best choice that you can act on. You will become a lot more clear about what to do when the answer comes to you.
Your Divine Creativity
The people who create and accomplish the most are the ones who seem to work the least. "It takes a lot of time to be a genius. You have to sit around so much, doing nothing, really doing nothing," says Gertrude Stein. Divine sparks are everywhere. They are embedded in everyone and everything. Silence your mind and listen to the Universe to discover the sparks and transform them into something new. Recognize that you are surrounded by the vast power and wisdom of the universe. Align yourself with the universe and be more attentive to its messages.